Working with elected officials to support legislation that focuses on the needs of low-income customers is a priority for Patty Riddlebarger, Entergy's vice president of corporate social responsibility.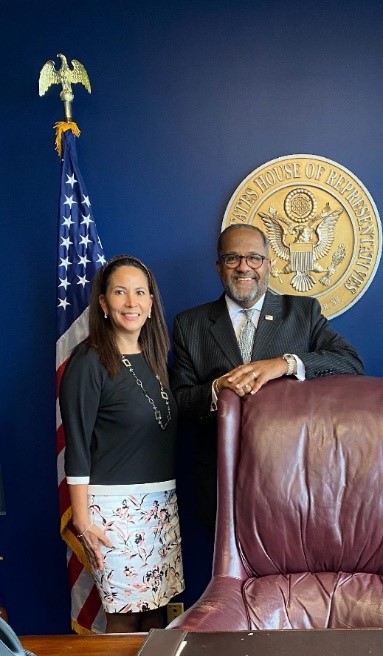 During her latest meeting with U.S. Representative Troy Carter of Louisiana's second congressional district, the conversation centered on initiatives that are critical in providing relief for low-income customers in Louisiana, many of whom are struggling with financial impacts related to the ongoing pandemic and severe weather events. The second congressional district comprises nearly all of the city of New Orleans and stretches west and north to Baton Rouge.
"As a former member of the New Orleans City Council Utilities Committee, Representative Carter was very familiar with many of the issues and challenges our low-income customers face, such as rental assistance," Riddlebarger said. "He expressed concern about the challenges that various parishes and agencies were experiencing in getting rental assistance funds to customers in need."
Riddlebarger and Carter also discussed the vital role that the federal Low Income Home Energy Assistance Program plays in providing utility bill-payment assistance for customers experiencing financial hardships. As a long-time advocate of LIHEAP, Entergy has been working with peer utilities to increase LIHEAP cooling assistance funds for warm-weather states, where extreme heat poses health hazards for many vulnerable residents.
"Representative Carter pledged his assistance for LIHEAP and was interested in learning more about Entergy's efforts to expand relief for residents in Louisiana and throughout our four-state service area," she said. "We plan to meet again in coming months to review the status of low-income initiatives and work together to secure more resources for individuals and families in need."
For more than 100 years, Entergy has powered life in our communities through strategic philanthropy, volunteerism and advocacy. The company secured nearly $300 million in LIHEAP funding for low-income customers and helped them pay more than 1 million utility bills over the past five years. Entergy's corporate social responsibility initiatives help create and sustain thriving communities, position the company for sustainable growth and are aligned with the United Nations Sustainable Development Goals.